Diatomite powder processing technology and processing plant
Diatomite is a chalk-like, soft, friable, earthy, very fine-grained, siliceous sedimentary rock, usually light in color (white if pure, commonly buff to gray in situ, and rarely black). It is very finely porous, very low in density (floating on water at least until saturated), and essentially chemically inert in most liquids and gases. It also has low thermal conductivity and a rather high fusion point. Diatomite is now used principally as a filter aid; but it has many other applications, such as an absorbent for industrial spills and as pet litter, a filler in a variety of products from paints to dry chemicals, an insulation material as sawn and molded shapes as well as loose granular, a mild abrasive in polishes, and a silica additive in cement and various other compounds.

Diatomite powder processing technology:
The main bearing and each dial are driven by electromotor of main machine through reducer, and numbers of rollers, which are rolling in the ring, are driven by dial through plunger. After crushed by hammer crusher, the big materials become small ones and are sent to storage hopper by elevator and further sent to the middle of first dial evenly by the electromagnetic vibrating feeder and feeding pipe. The materials will be driven to the edge of dial by centrifugal force and fall down into the ring, crushed and grinded by roller, and become powder after production of three rings. The high pressure centrifugal blower will inhale air from outside and blow the crushed materials to classifier. The rotating turbo in the powder concentrator will make the coarse materials return to the mill and reground, while the fineness will mix with the air and go into the cyclone and be discharged in the discharge bin, which is at the bottom of it. The air, which mixed with very little fineness, will be purified by impulse duster and discharged by blower and muffler.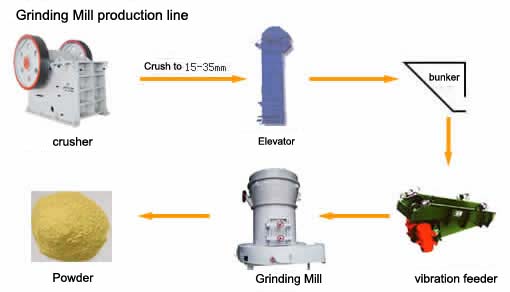 If you want to processing Diatomite powder,please choose the following processing plant:
European version of the coarse powder grinding mill machine:
The finished fineness is less than 3mmm
YGM high pressure suspension Raymond roller Mill:
The finished fineness: 15-425 mesh (fineness can be adjusted)
HGM superfine powder grinding mill
The finished fineness:325-3000 mesh (fineness can be adjusted)



The purpose of

Diatomite powder processing plant is for grinding materials with hardness less than 6 in Moh's scale and humidity less than 6 percent such as kaolin, limestone, calcite, marble,talcum, barite, gypsum, dolomite, bentonite mud,mica, pyrophyllite, sepiolite, diatomite, graphite, alunite, fluorite, potassium feldspar, phosphorite, pigment and so on.