Application value of ultrafine vermiculite mill
Vermiculite is a natural, non-toxic mineral that expands under high temperature. It is a relatively rare mineral and belongs to silicate. Because vermiculite has the ability of ion exchange, it has a great effect on improving the soil. The mill is widely used in the field of vermiculite milling and has high application value, which is very popular in the market.
Different sizes of vermiculite have different uses
20 meshe: house insulation equipment, household refrigerator, car muffler, sound insulation plaster, etc.
20 ~ 40 mesh: automobile insulation equipment, steel annealing, fire extinguisher, filter, cold storage, etc.
40 ~ 120 mesh: linoleum, roof board, eaves board, dielectric brake board
120 ~ 270 mesh: paste wallpaper printing, outdoor advertising, paint, increase the viscosity of paint, fireproof card paper for photographic cork board
270 mesh: external supplements for golden and bronze inks and paints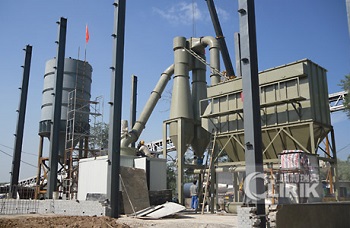 Due to the different uses of vermiculite with different diameters, high-quality mills that can arbitrarily adjust the mesh size of vermiculite powder are required. In response to the production needs of vermiculite powder, Clirik, a well-known national mill manufacturer, recommends a vermiculite mill Powder machine-
HGM ultrafine vermiculite mill
.
HGM ultrafine vermiculite mill is a revolutionary new ultrafine vermiculite mill developed by Clirik on the basis of traditional Raymond mill, after years of practice and continuous innovation and improvement. HGM ultra-fine vermiculite milling machine covers several vertical patents, maintenance-free grinding roller assembly, ultra-fine subdivision machine, high-efficiency and energy-saving dust removal system, easy-maintenance transmission system and other exclusive patents. Increase is a new type of ultra-fine vermiculite mill with high efficiency, high output, convenient maintenance, stable operation, energy saving and environmental protection.
HGM ultrafine vermiculite mills
are used for the grinding of mineral products in the fields of metallurgy, construction materials, chemical industry, mining and other fields. Ore, such as vermiculite, limestone, calcite, activated carbon, talc, dolomite, titanium dioxide, quartz, bauxite, marble, feldspar, barite, fluorite, gypsum, ilmenite, phosphate rock, clay, Graphite, clay, kaolin, diabase, coal gangue, wollastonite, slaked lime, zircon sand, bentonite, manganese ore, etc. The fineness of the finished product can be arbitrarily selected between 0.18-0.038mm (80-600 mesh).