Process of deep processing of desulfurized gypsum
The process of deep processing of desulfurized gypsum is completed by jaw crusher, belt conveyor, storage tank, mill main machine, high pressure fan, air duct, powder separator, dust collector, dust collection system and packaging system. At present, the gypsum deep-processing industry usually uses milling industrial machinery for a large number of processing machinery and equipment, which can produce desulfurized gypsum powder from 80 mesh to 3 microns.
The complete set of production line equipment for the process flow of deep processing of desulfurization gypsum of Clirik. The main configuration of the production line of the process of deep processing of desulfurized gypsum is various. The production line configuration is intelligent, the dust collection system has a high dust collection rate, and there are many types of mills. It is suitable for different levels of investment. In order to meet the needs of some small and medium-sized manufacturers for the investment in production of ultra-fine desulfurized gypsum powder, Clirik launched a Desulfurized gypsum CLUM1425
ultra fine vertical roller mill
production line.
Clirik 325 mesh to 2500 mesh desulfurization gypsum deep processing technology mill-

CLUM1425 ultra fine vertical roller mill
{Vertical mill model}: CLUM1425
{Honing disc diameter}: 600mm
{Fineness of finished product}: 7-45μm (up to the finest), 3μm (with secondary classification system)
{Production capacity}: 0.2-2t / h
{Product Features}: As a considered model of 325 mesh to 2500 mesh or even 3000 mesh ultra-fine ultra-fine desulfurization gypsum ultra fine vertical roller mill, this milling equipment breaks the bottleneck of ultra-fine powder processing capacity and can replace imported equipment. It is a super-fine powder scale The equipment of chemical production has the technical advantages of high powder selection efficiency, convenient maintenance, low operating cost, and low comprehensive investment cost.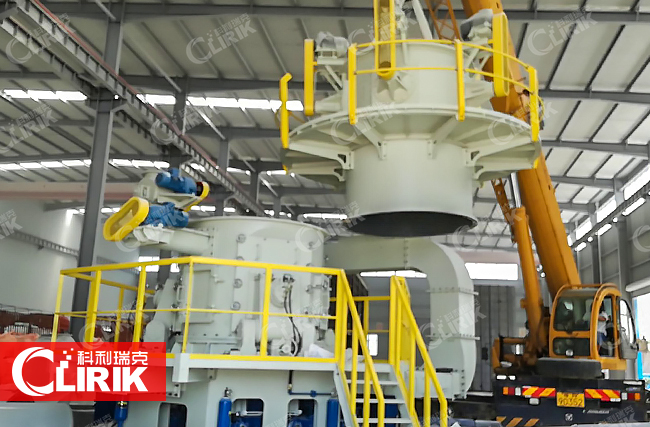 Desulfurization gypsum deep processing technology
Non-metallic mineral powder production processes and processes use mechanical force to crush and grind desulfurized gypsum, and usually use a
ultra fine vertical roller mill
to crush it. Ultrafine desulfurized gypsum powder is transported and collected by high-pressure air. The powder analyzer has bag, pulse, and is divided into first and second dust collection modes. The entire ultra-fine desulfurization gypsum powder production process consists of five steps: desulfurization gypsum crushing, non-metal ore grinding, desulfurization gypsum powder classification, desulfurization gypsum powder collection, and desulfurization gypsum powder packaging. At present, the industrial mass production desulfurization gypsum powder production technology usually uses industrial mills for technical processing. The domestic desulfurization gypsum powder production process uses mechanical force to grind and crush the desulfurization gypsum, and then selects the powder through a powder analyzer. The whole process requires power equipment to provide kinetic energy and wind to transport powder. Please consult our company for specific configuration.